Features
With over twenty four connections for peripheral control, wireless connection anywhere Internet is available, the Agri-Star II comes loaded with everything needed to run your System! Storage Managers like it for Data Management, Historical and Climate Reporting.
Operation Managers and Owners like it for multiple levels of Farm access, data analysis for meetings, and more.

Back Title
This is content area.
Gellert offers wireless and automated control solutions to the industries we serve.
Whether you're an Agriculture operation that needs Post Harvest control, a Beekeeper looking for a wireless solution or a Greenhouse who wants segmented climate control of each area of the Nursery or Grow Room, Gellert's Agri-Star Control Panels are fully-adaptable to your environment.
Here are just some of the Industries and Applications that can be controlled with the Agri-Star!
AGRI-STAR PANEL MAGIC
The success of our AGRI-STAR comes from application-specific sensors strategically placed in and outside of the facility. Each internal sensor detects variations of climate in that room and reports back to the panel.
The external sensors are also constantly measuring outdoor climate conditions and reporting back to the panel. When the panel sees optimum outdoor conditions, it will engage efficiency options and will control Gellert Equipment to provide natural temperature and humidity.
TECHNOLOGICALLY ADVANCED
Improvements in both sensor technology and control components allows the panel to integrally respond to the information it receives. This means that more precise control of your application and quality grow and holding conditions can be met.  It also reports to phones and tablets through onboard iOS and Android Apps with basic dashboard information being viewed vertically. As the phone is flipped horizontally an expanded view is visibile. Adjustments and reporting can be made via the App anywhere there is a wireless connection.
VERSATILE AND ADAPTABLE
There is no limit to features of control, with the ability to add-on additional points of control for each panel, depending on your application.
Each panel solution includes access to our wireless Intuitive App. Your controls and visibility are at your fingertips 24/7  –  365 days a year!
MANAGEMENT TOOLS
Agriculture appreciates the capabilities to control Segmented or Bulk storage. Large Farm Operations appreciate having visibility up and down the storage chain and a standardized method to holding produce. The powerful tools like historical data reporting and graphing can be integrated into your current operations software.
The reporting tools offer multiple timeline trend views for 'look-forward' planning and more. Contact Gellert or a Gellert Dealer for a live demo.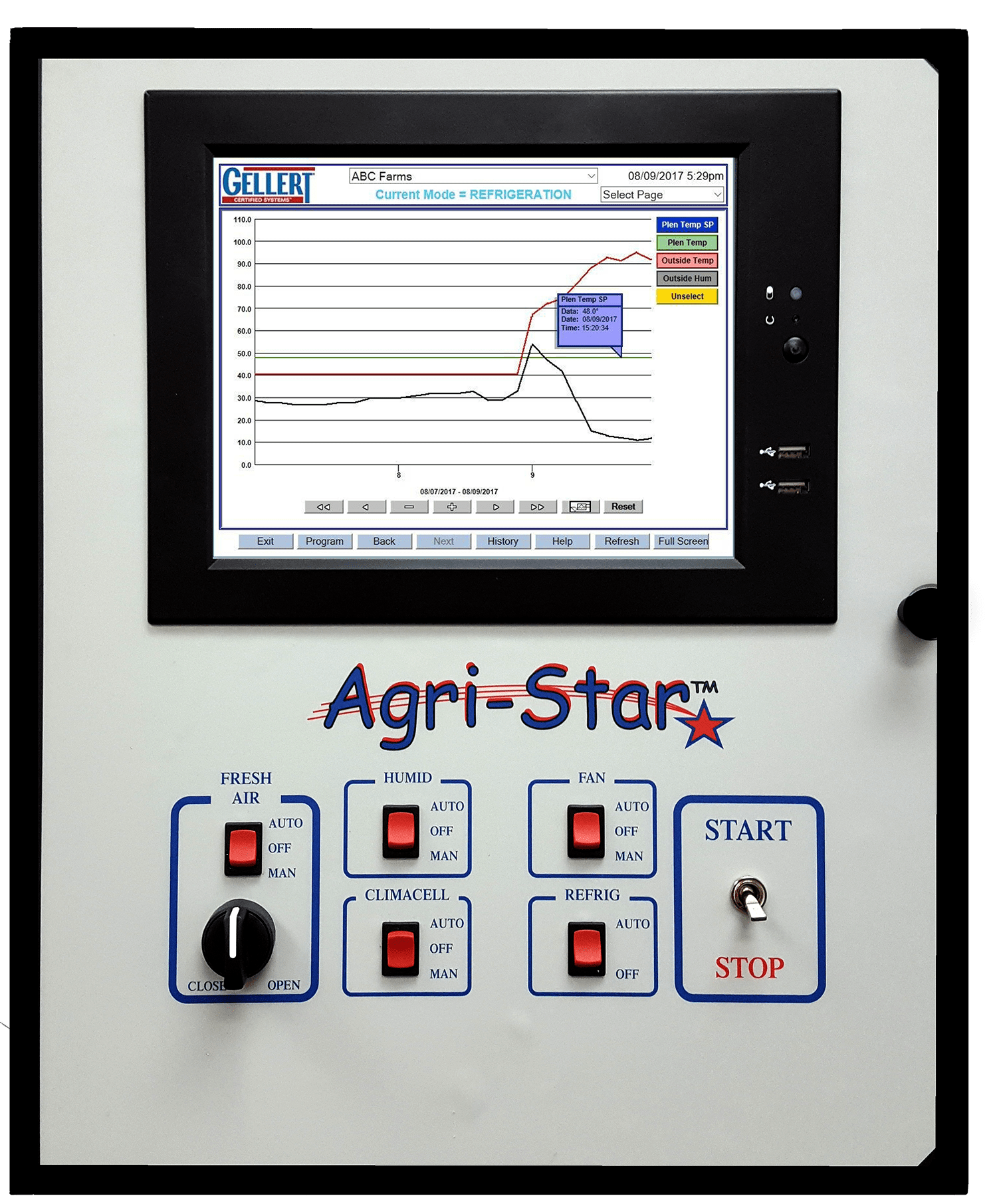 STANDARD MODEL
Our Native Panel comes with an Interactive User-Friendly Touch Screen for Single System Control.  It is simple to set up and easy to use.
Our GDC (Gellert Door Controller) can be added to this model.  Comes internet-ready.
MULTI-SYSTEM CONTROLLER
The newly designed Multi-System Controller is a perfect fit for those tight areas where space is a concern. It incorporates complete controls for two separate sets of equipment. The GDC(s) can be added to this Model. This controller has all the same design features as our standard Agri-Star, including easy programming and a responsive Touch Screen.
BIN CONTROLLER
Our most recent Panel offers all the same control features, without the touch screen.  User interface is easily accessible from a PC or our Android or iOS apps.   This panel is an affordable option for those smaller systems storages, or for the more segmented approach to bins or bays.
CONTROL – 24/7
You Asked – We Delivered!
With Gellert's Intuitive App for your Agri-Star Panel, you can have visibility and control of all aspects of your climate.
We can also be your Internet Service Provider.  
Let us assist in getting your storage or other facilities set up with remote connectivity.  Then – we can help manage your network.  SEE GellertWireless for more information or call us on how to simplify your environment with our internet services.
A small sample of the Menu Screens you'll experience with our User-Friendly Interactive Touch Screen.
All of our menus have full sentence instructions – no abbreviations or confusing symbols!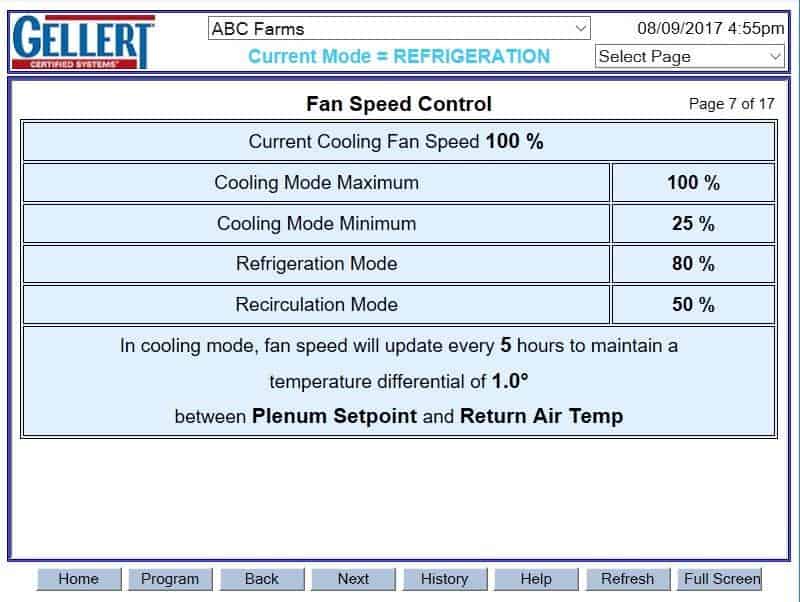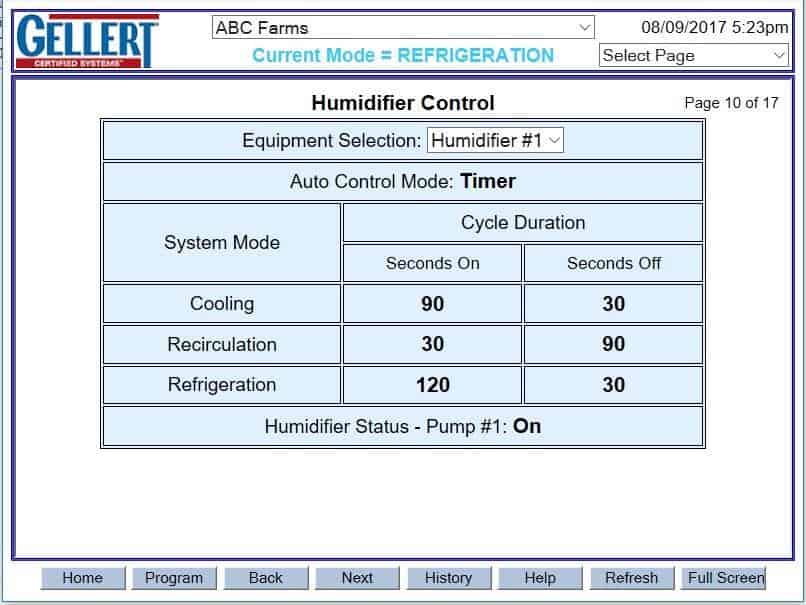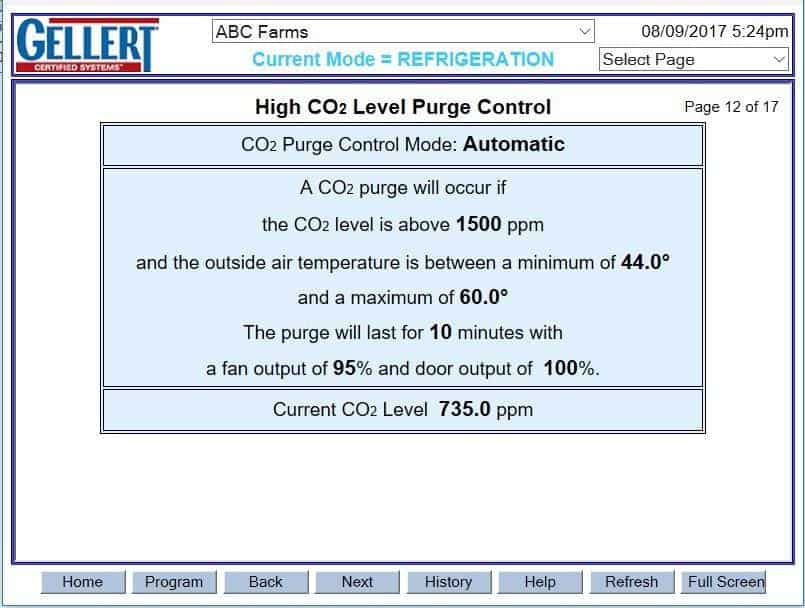 MANAGING YOUR WORLD
Our customers rely on the Agri-Star Panel's reporting and graphing capabilities to access performance trends over time.
This analysis allows for future planning and adjustments to a customer's Field and Storage operations.
Improvements in data integration gives our customers "now" information that they can immediately act on – and develop proactive (as opposed to reactive) strategies to their storage.