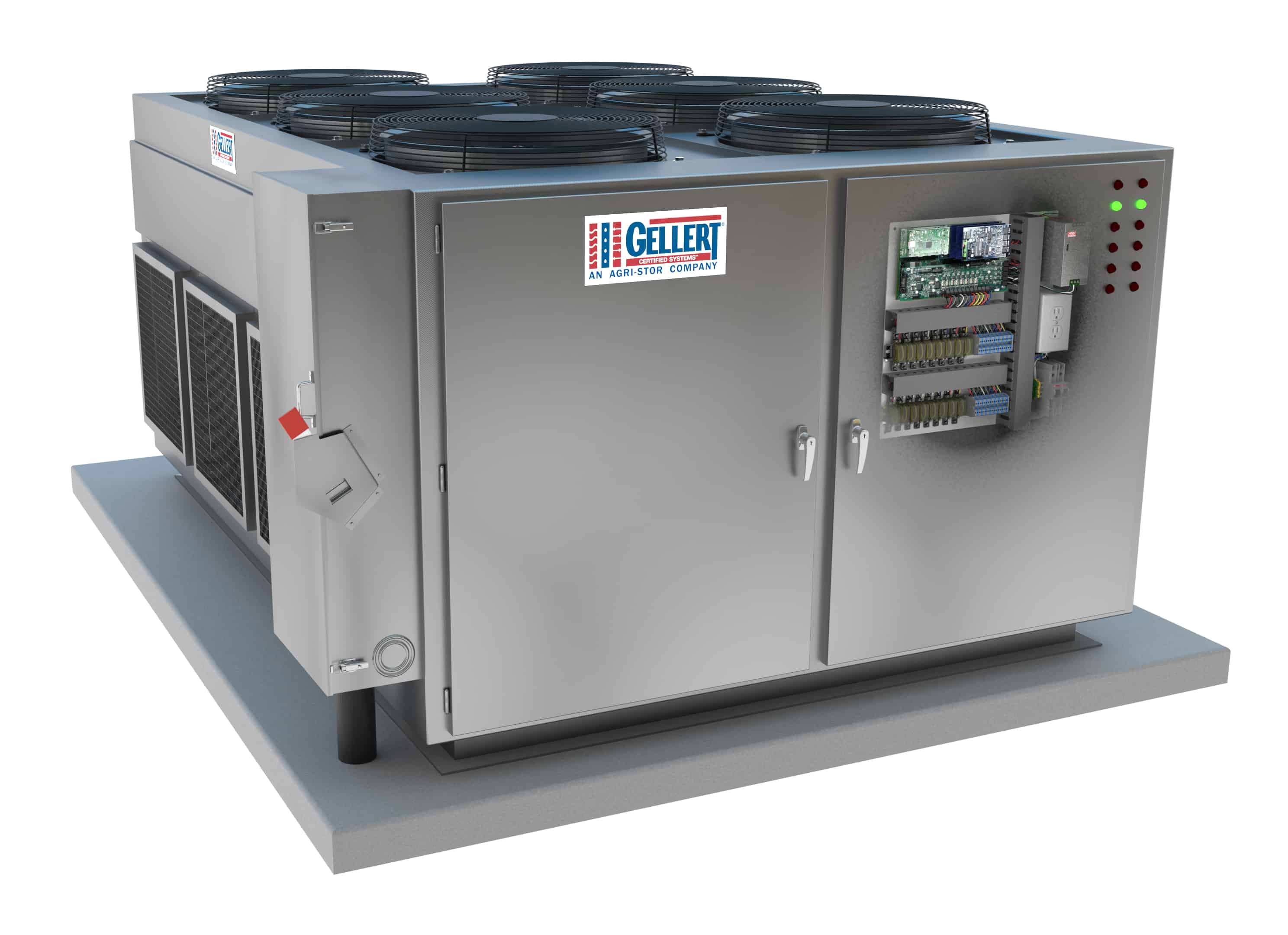 Gellert Refrigeration Control
Eliminate Overuse & Compressor Failure

Alternate between multiple compressors, allowing you to sidestep the risk of any "one compressor" getting overworked.
Enjoy the comfort of redundancy. While running multiple compressors, if a single compressor fails, the other will continue working so you don't have a complete shut-down.
Alternate Condenser fans  increasing the life span of all motors.
Control Functions for Energy Savings
Condenser fans can be controlled from a fixed discharge setting, or a floating pressure – based on outside temperature. Condenser fans can be driven off VFD or on a defined output.
Suction Pressure trend is continuously monitored to determine when to start a defrost. This decreases the total number of defrosts needed.  Monitored inputs, such as Suction Temperature or Pressure, Oil Pressure, LLS Temperature, etc. can be viewed in a table or graph.
Monitor mechanical failures for:
Compressor Overload
Condenser Overload
Oil Pressure
Low Suction Pressure
High Discharge
Crankcase Heater.
Just in time alerts and controls configurations that shut down compressors before mechanical failures
Remotely Monitor and Release the system after errors.
POST HARVEST
Gellert's Post Harvest Refrigeration solutions meet product holding demands and are professionally designed to meet your requirements. These include:
Heavy Duty Packaged Systems | Portable | Skid | Through the Wall |Through the Door | Unit Coolers | Gellert FreeAir | Refrigeration Control
beverage & dairy
Multiple Batch Wine Systems | Custom Manifold Piping | Interval Time Chilling | Cold Wall | Reach In | Cooling Vat
apiary
Successful Overwintering | Packaged Condensing Unites | Unit Coolers | FreeAir| Gellert Climate Box for Bees
food processing
Gellert meets your Raw Food, Ready to Eat (RTE) and Food Safety with Quality needs with a variety of solutions for Raw Food Handling, IQF, Food Manufacturing, and more. Our refrigeration solutions include:
Blast Freezers |IQF Freezing | Cold Rooms | Walk-in Coolers & Freezers | GellertSpaces |Ice Making |Dry Ice Pelletizers | Process Cooling | Process Chillers |Refrigeration Coils
HORTICULTURE
Gellert's refrigeration capabilities extend to the Horticulture industry specifically Floral, Herbs, Orchids and General Greenhouse Cooling. Gellert can provide:
Vacuum and Tunnel Cooling for Floral Fresh Harvest | Modular Greenhouse Coolers | Through the Door Solutions.
Agricultural Equipment
Gellert provides multiple refrigeration options for your Post Harvest or Rapid Field Cooling needs. Removing field heat and having the ability to hold and control is Gellert's expertise.
If you're looking for better control for cooling from the field, storing,  or for shipment staging in Freshpack areas, Gellert provides many options including: 
Condenser De-humidification
Condensing Units with Evaporator Coils
Through the Wall Refrigeration
Through the Door Refrigeration
Through the Roof
Tunnel and Vacuum
Falling Film
Unit Coolers with a variety of efficiency options
Combination Humidity/Refrigeration
Condensing Units and Coils
We have condensing units and evaporator coils – designed specifically for your most challenging storage environments.  
Your refrigeration equipment from Gellert will always be customized to your desired size and specifications.
Gellerts' Refrigeration capabilities extends to Commercial industries. Case refrigeration adds to the amenity experience for hotels and skilled nursing facilities while a variety of improvements and footprints available for Restaurant and Convenience stores who are looking for an innovative and efficient solution. Gellert can provide:
Case Refrigeration in a variety of sizes
Reach-In Refrigerators and Freezers
Walk-In Refrigerators and Freezers
Cold Rooms
Refrigerated Containers and Freezers
Ice Machines